Why to Use Notes Address Book Converter?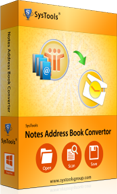 Each individual likes to embrace new technology provide brilliant work with the basic procedure of operation, mistake less and give full accommodation to clients. The Outlook likewise thought to be a propelled technology, which resolve the greater part of the issues connected with the Lotus Notes and People move towards this email customer application which is an easy to use and give a superior alternative to particular data administration. Contacts are the paramount segment of each email procurement and individuals need their contact details in Outlook Environment additionally which is conceivable with Notes Address Book Converter tool which securely moves all details of names.nsf to Outlook, without bringing on any failure. It is good to change over information starting with one record design, then on to the next by protecting the properties of contact details. In addition to that, some shrouded characteristics of the product are:
Easy & User Friendly Interface.
Convert Lotus Notes Contacts/Groups to Outlook.
Supports Notes 8.5, 8.0, 7.0, 6.5 & 5.0 and Outlook Version 97 to 2013 (32 Bit).
Run on any Windows Operating System.
Export Notes address book to Excel File, vCard File and PST file.
Powerful Lotus Notes Conversion Tool.
Safe to Install.
Features that Notes Address Book Converter Offers
Convert Lotus Notes contacts to Outlook is not an easy job it means that your contact details transfer from NSF file format to PST who has a different technique for memory storage. But software to export Lotus Notes address book to Outlook contains various features that make this task simple and flawless. It offers you features like:
FEATURES
Convert Notes contacts to Outlook 2013/2010/2007/2003 (Unicode) or 2000/2002/XP (ANSI) format.
The Software allows users to export Lotus Notes contacts Groups to Outlook Groups.
Convert Lotus Notes contacts to vCard (.vcf) file, so that you can easily import contacts in applications which support vCard format. vCard format can be used with wide variety of digital devices (PDA, i Phone, i Pod, Mobile Phone, Palm).
The software facilitates the retention of the original structure of the Address Book structure which was there before the conversion.
Support Conversion of Notes address book files giving error messages such as "You are not authorized to perform that operation:...names.nsf".
The software lists all Notes contacts in an alphabetical order under respective alphabet category from A to Z.
Notes Address Book Converter software is a brilliant utility which can slickly transfer your complete Lotus Address Book to MS Outlook. You can easily get your initial Lotus Notes contacts information in different formats and read on your right way. Use tool to convert Lotus Notes contacts to Outlook and collect complete contact information easily without updating.
Additional Feature You get with This Software
Notes contacts Converter is an application program which can easily export Lotus Notes Address Book to Outlook by supporting .pst, vcf and .xlsx file formats. This device serves to switch your Lotus Notes Contacts data to an alternate format, including business, personal, briefcase, advance and easily run all windows variants. Also, it offers a free demo variant to present clients with its functionalities. You can send out initial 15 contacts from Notes address book to Outlook.
System Requirement of the Provision
While using application to convert Lotus Notes Address Book to Outlook, You must have the following installed on your PC:
Lotus Notes Client Software v8.5 or 8.0 or v7.0 or v6.5 or v5.0.
MS Outlook 2010/2007/2003/2002/XP/2000 or 97.
Any Window Platform is having 1 GHz Processor, 512 MB RAM with 5 MB free Hard Disk Space.
Required for DEMO Version and FULL Version to Work.
Lotus Notes Contacts Conversion Solutions
This software Notes Address Book Converter is available for purchase in three licenses, i.e. Corporate which is basically for single user at 69 USD only, Technician for multiple user at the single place and Enterprise License for multiple users at different geographical locations. If you have any queries or questions regarding software, then contact our Support Help Desk.